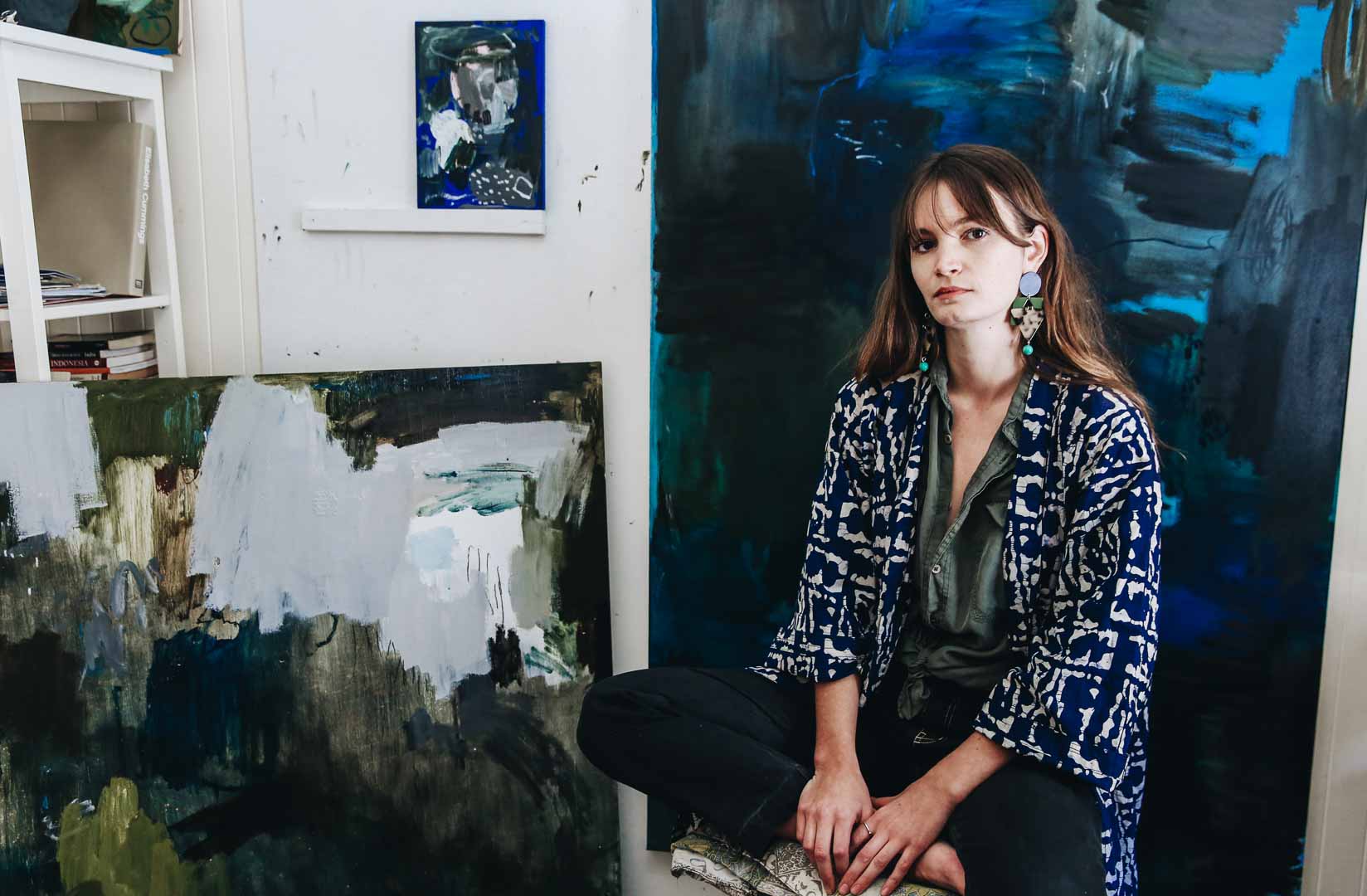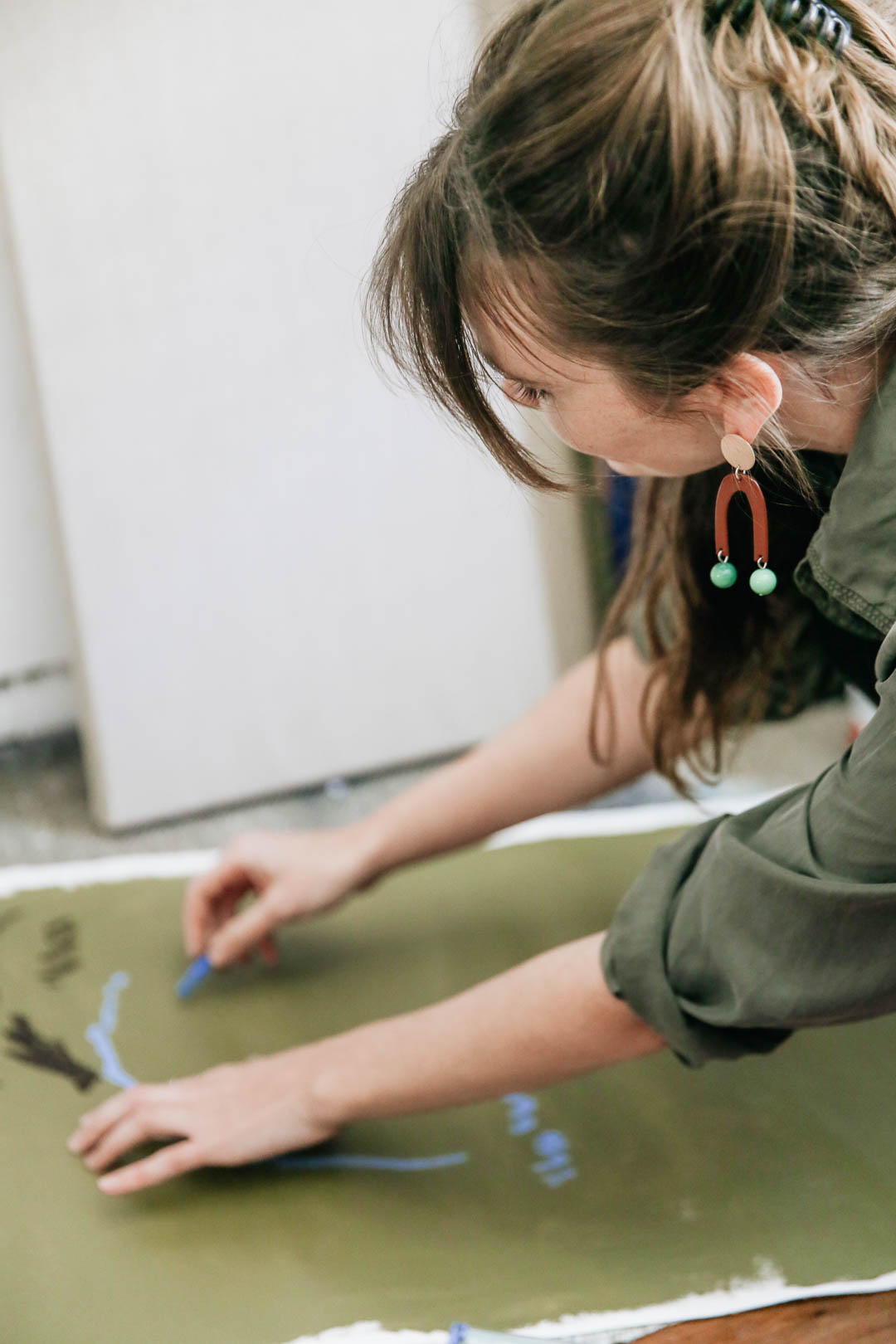 "Painting has become a meditative act of recalling my experiences of a place through abstract response"
~ Bridie Gillman
For our first studio visit, meet Brisbane based artist Bridie Gillman. We visited Bridie's studio in her home at Kangaroo point and chatted about her practice, colour palettes, travelling and her daily studio routines. Bridie and I met in our final year of art school and were drawn to each others work. Bridie has such a beautiful sense of colour, and we got a chance to see her latest body of work.
What does a typical day in the studio look like for you?
If it's a studio day, I'll start around 9-10am, have a coffee while sitting and looking at what I did the day before, actually there's a fair bit of sitting and looking throughout the day! Then onto any computer work which I can't say I enjoy. And then it's usually surface preparation – stretching and priming. I don't usually get started painting until around 2pm, I've found I work best in the late afternoon, and go until maybe 8pm. I used to get frustrated, feeling like I'd wasted a day in the studio, like I wasn't being productive with my time, but once I recognised this was the best way I worked, I've felt more at ease with it. I like to work quite fast, so having a time limit of a few hours can work really well, the energy it gives, and sometimes it doesn't work out so well too!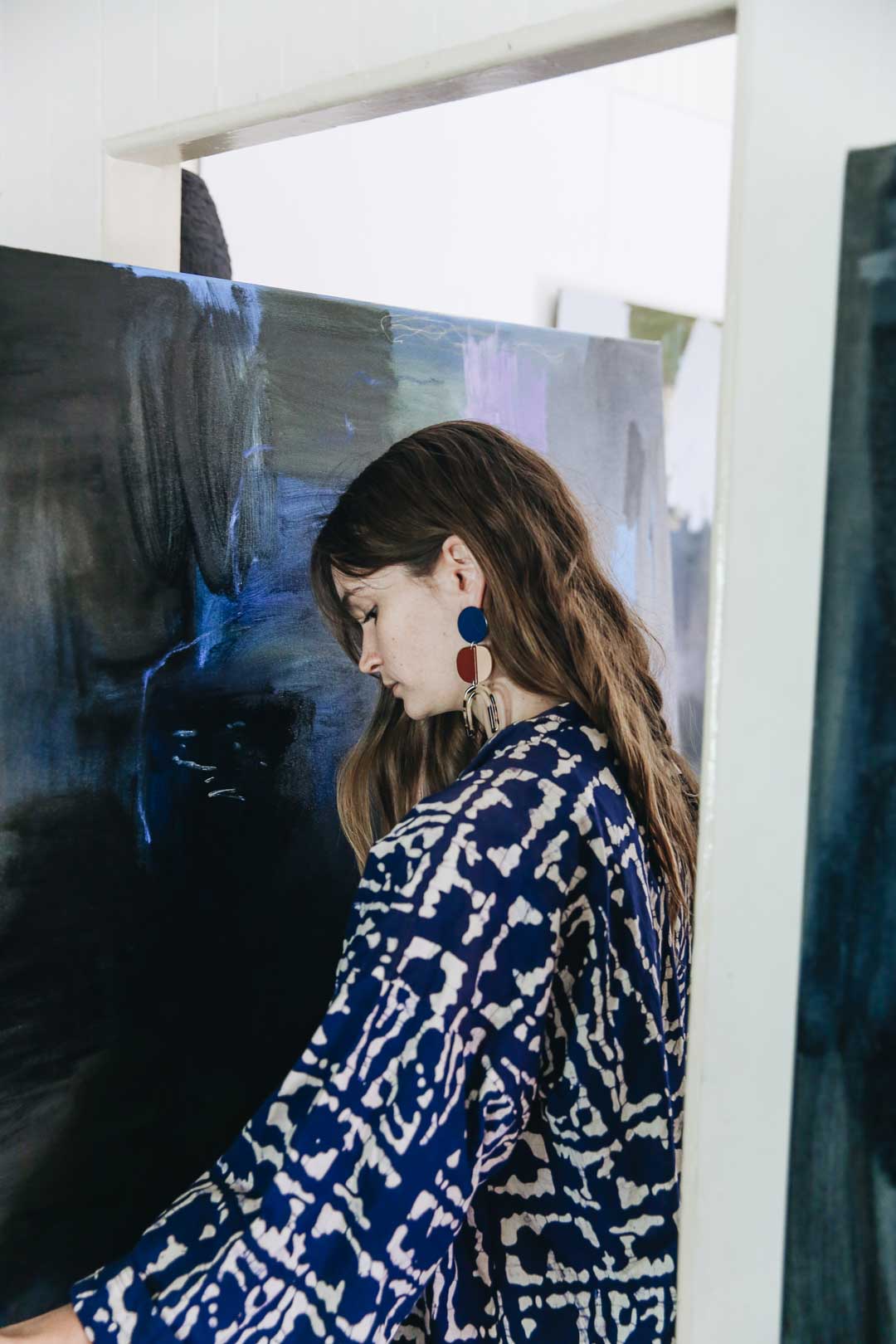 Photographs by Savannah van der Niet.
What do you listen to while working in the studio?
I've recently started listening to podcasts! Two I've found really interesting are 'Talking with painters' and 'Starving artist'. That's usually in the morning when prepping etc, I can't paint to them. Later in the afternoon when painting I like something that gets me moving or makes me feel in some way. A while ago I went through a phase where every time I started a painting I would put on Jeff Wayne's 'War of the Worlds', and go through all four sides of the record, always to be followed by Pink Floyd's 'The Wall'. Weird?
"Working in a new location – You experience a place in a different way, because you're always looking for something, even if you don't know what you're looking for."
Your painting practice approaches place through memory and abstraction. This is really interesting as it is similar to how I translate memories into motifs which become jewellery. How do you go about translating the memory of a place into your painting?
Yes, painting has become a meditative act of recalling my experiences of a place through abstract response. Formless abstract shapes reflect the inconstancy of memory: an emotional reaction rather than a representation of place.
Translation of memory is done primarily through colour. Whatever place I'm thinking about, I'll pick a set of colours. It might be the lush greens of hiking through a jungle, the colours of the sarong I was wearing, a particular yellow door on a back street or the cutlery at a place I had breakfast. The titles usually reflect the memory.
More recently I've been experimenting with intuitive line work and mark making in the early stages of a painting. It's often mindless, but I also often try to convey an element of how I felt – maybe anxious marks or smooth lines. I might think about the mozzies buzzing about, stepping over crumbling rocks or the rain hitting the roof.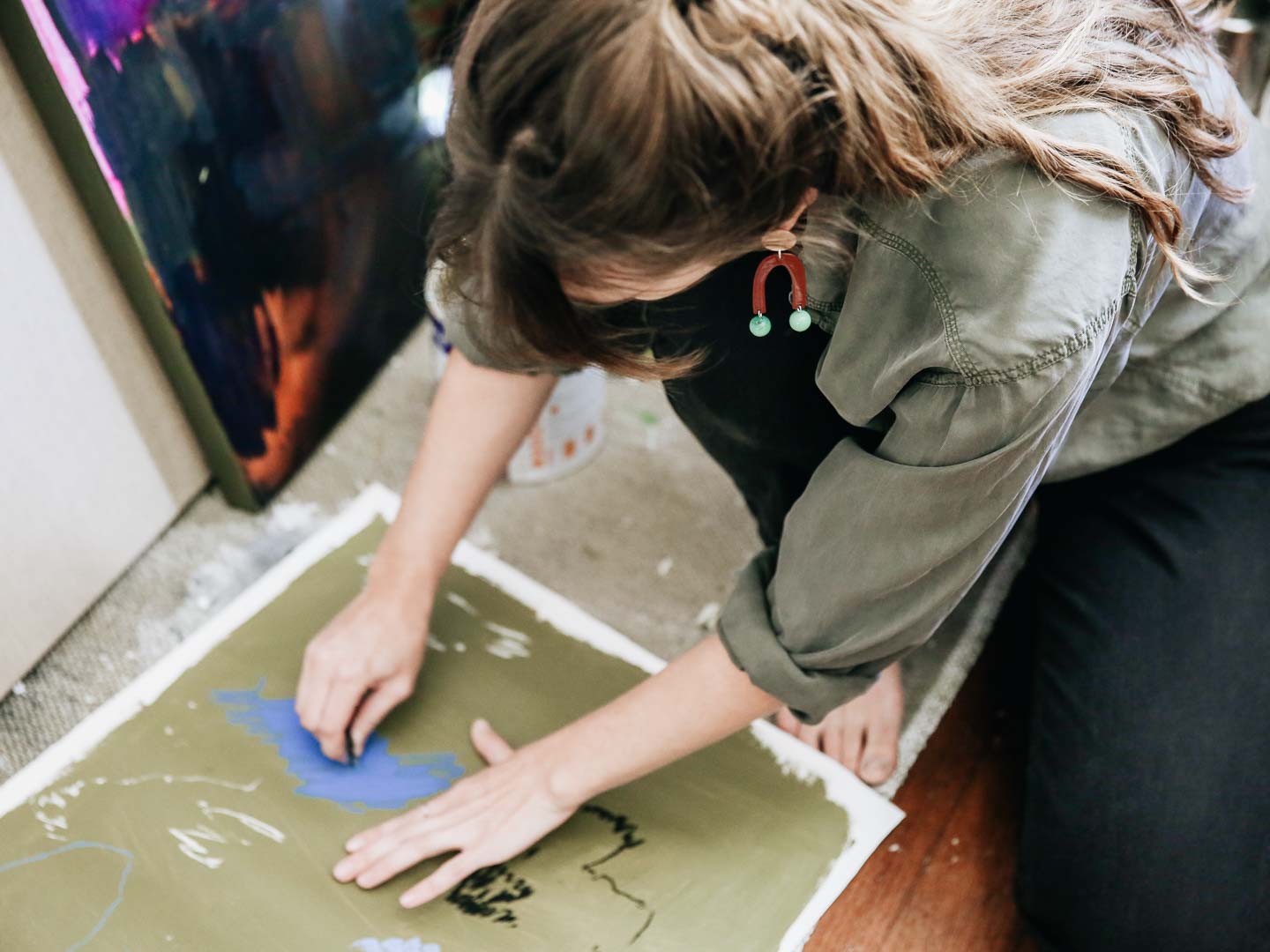 Could you tell us a bit about your relationship with colour and how you approach colour in your work?
Colour is really important in all aspects of my practice – painting, photography and my object/installation based work. I work very intuitively with colour. My work is probably more associated with bright colours, that stem from my experiences in Asia, but my recent body of paintings are a lot darker, and that wasn't a conscious decision, it just happened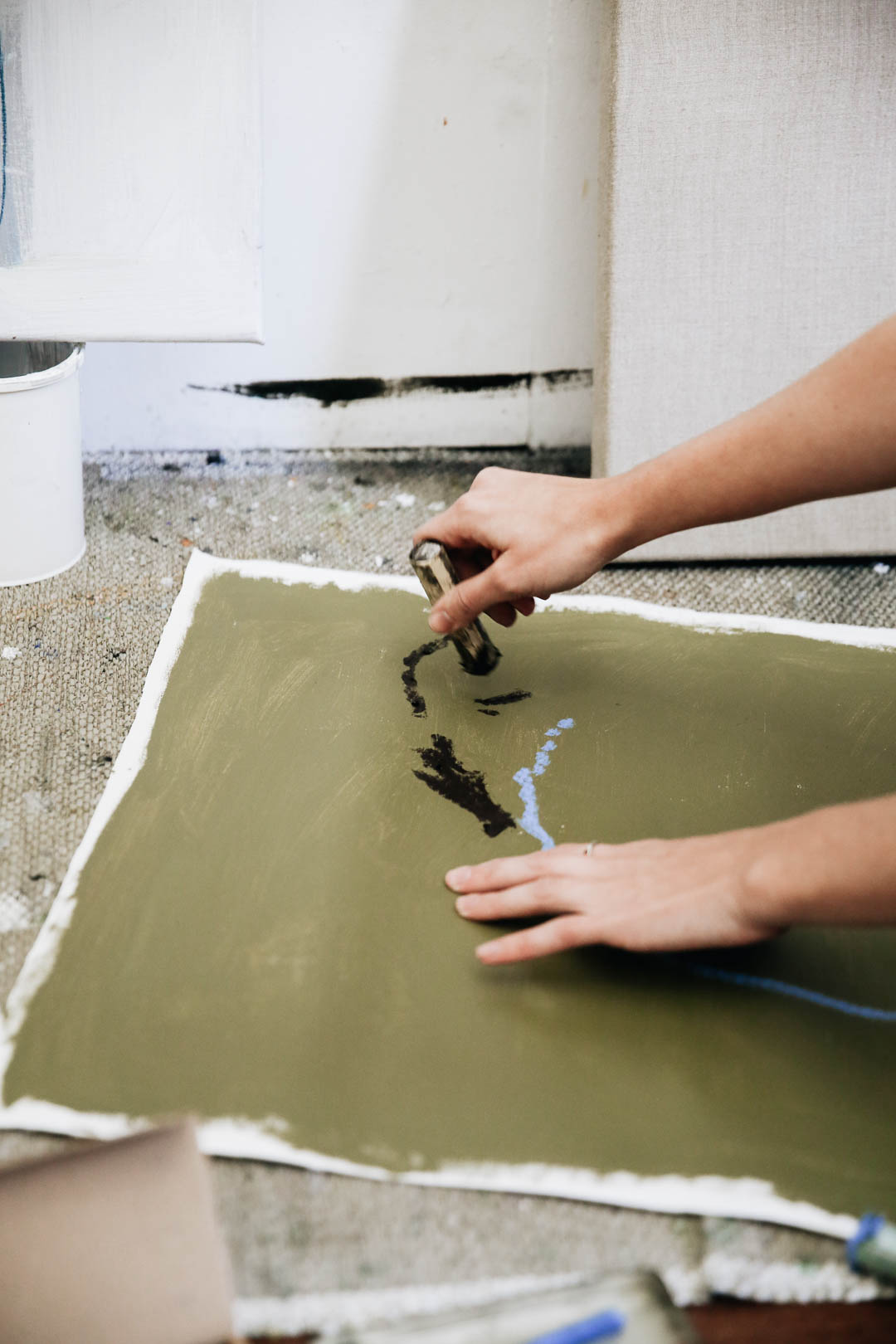 Exploring mark making with oil crayons
You are always off travelling and your artwork explores the processes of navigating cross-cultural experiences! Could you tell us about your favourite recent trip away and what it is like to make art in new a place. 
Oh not that much! But yes, Primarily my work is focused on responding to experiences in new places. While mostly these have been places overseas, negotiating cross-cultural experiences, I have recently been looking to the Australian landscape and attempting to navigate my uneasy relationship with it through painting.
Earlier this year I went to Bali to work on a project with filmmaker and artist, Asha Madge. We were looking at the relationship between Australians and Bali and the intricacies in areas of exchange between the two.
Working in a new location – You experience a place in a different way, because you're always looking for something, even if you don't know what you're looking for. It's good, because I like having something to work on, to walk around with a sense of purpose, but it does mean it can be hard to switch off and just enjoy the place like everyone else – but Asha is one of my oldest friends so we definitely had lots of fun!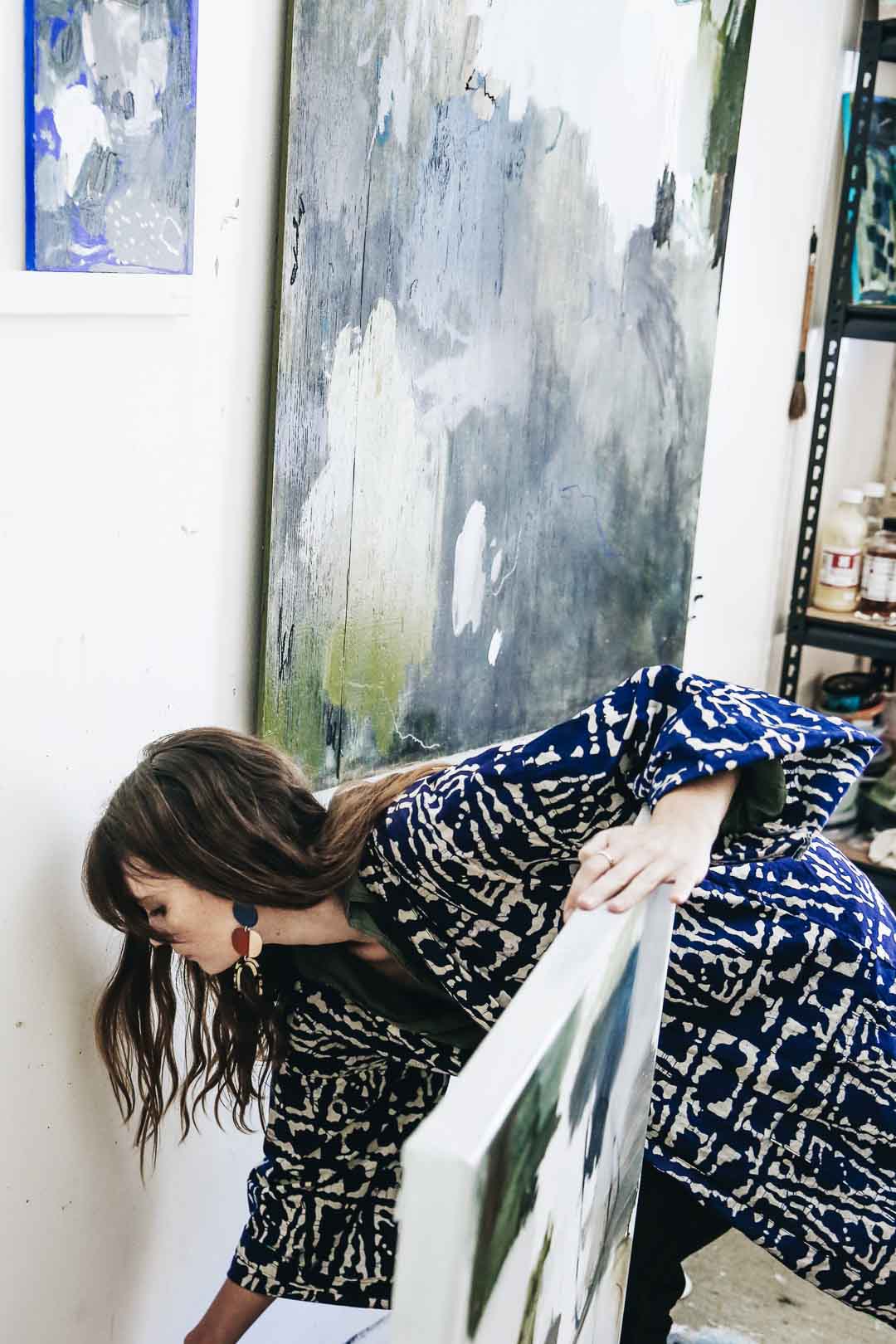 Bridie wears the Efira Earrings in Navy.
Does your art practice extend into your life in other ways, in your approach to collecting objects or adornment? 
Yes, especially when I was doing more assemblage and installation I would come home from Indonesia with a box of found street detritus and collected rope, plastic, toys, match boxes, all sorts of stuff to play with in the studio. I've always collected objects and fabrics and jewellery while away. I'm trying to slow it down though – or I'm not sure what my home will look like when I'm a lot older!
Do you have a favourite piece of jewellery you've collected through family or travels that has a memory attached to it?
Most of my jewellery has come from elsewhere, it's a nice thing to collect while away – small and easy to bring home and I imagine I'll keep it all my life. I have a couple of special pieces given to me in Istanbul by Dilek, a lovely woman who had a tiny art and antique shop in Beyoğlu that I worked in for a couple of months while I was there five years ago. One was a stack of three simple silver rings, I quickly lost one swimming in the ocean off Istanbul and now I only have one left. I wear it everyday and I love it, I hope I don't lose it!
Do you have a favourite piece of jewellery you've collected through family or travels that has a memory attached to it?
What do you love to do outside of making art?
To be honest I feel like everything I do ends up informing my practice, going away, going camping – there's no switching off really. In saying that, I love having friends over, cooking some good food and having some nice wine and conversation – that's probably one of my favourite things to do, even if we do always end up talking about art! What do you love to do outside of making art?
Where to next?
I've actually just arrived in George Town, Penang, an island off Malaysia. I'm here for a couple of weeks for the Obscura Festival of Photography. And I'll be heading to Yogyakarta, Indonesia afterwards and a little trip through Java before heading home.
Lastly, what is your favourite style from the new collection…!
I love the colours and layering shapes of the navy Cleopatra earrings, but I could see myself getting a lot of wear from the Otis outline earrings. This new collection has a beautiful palette.