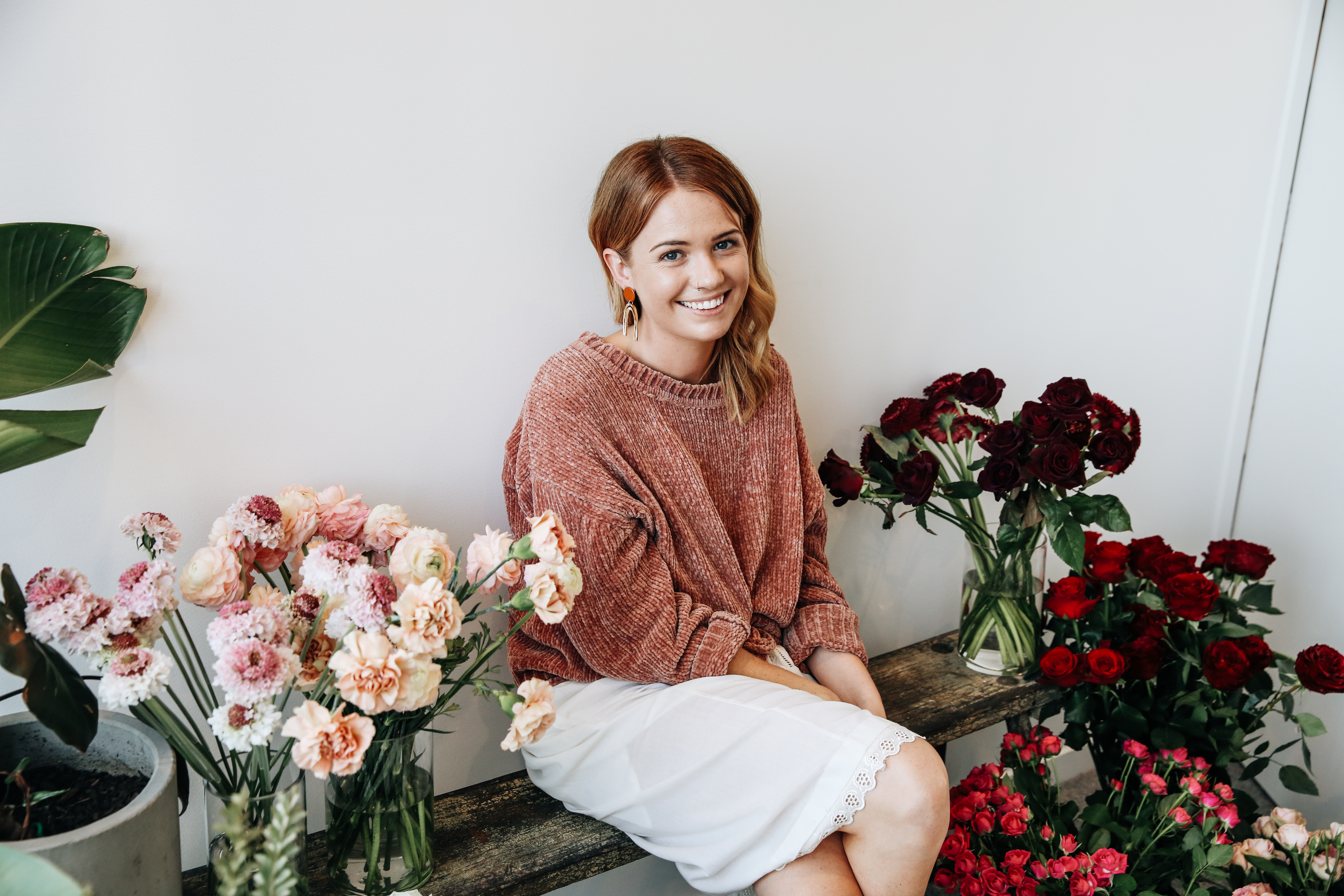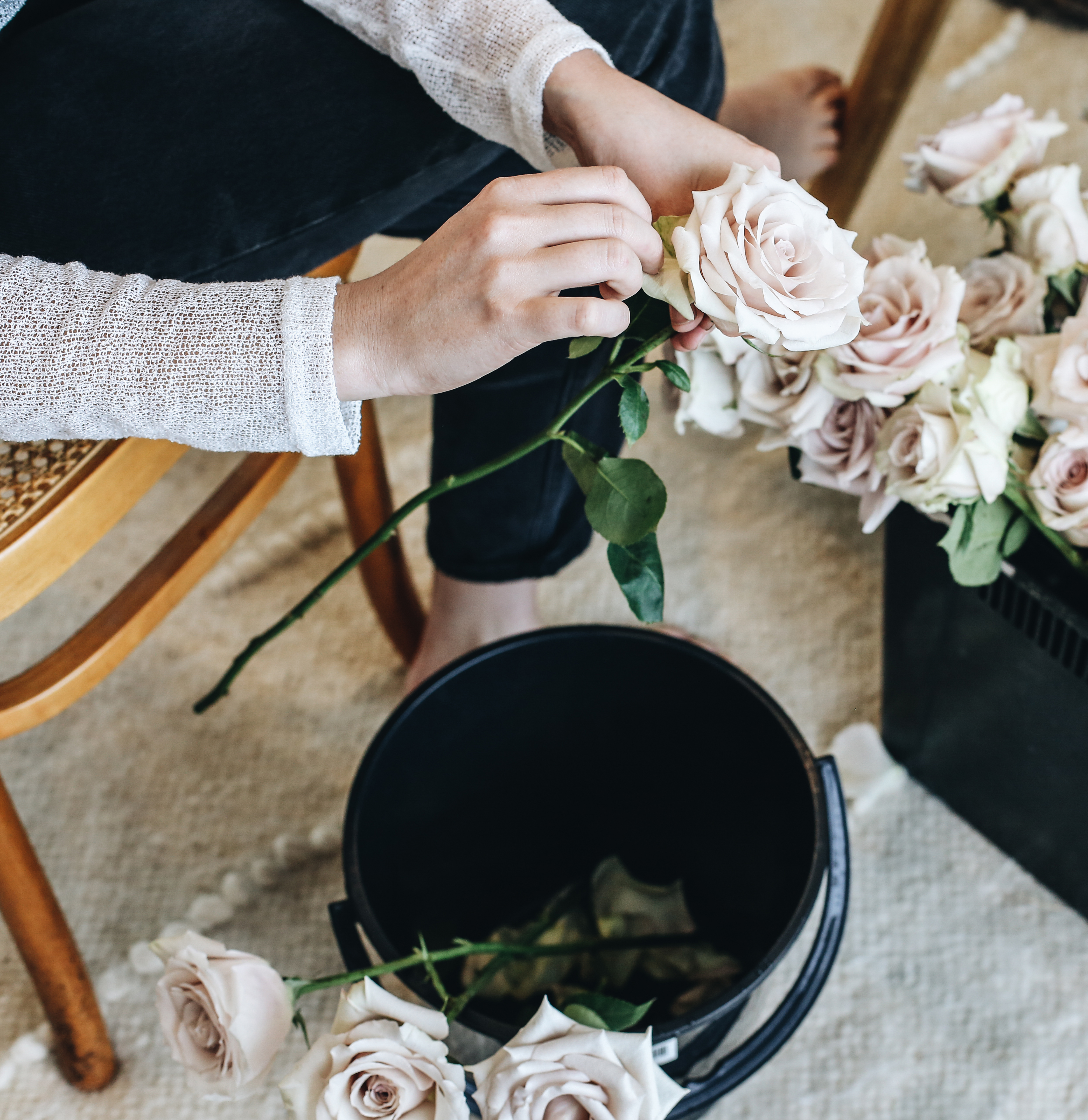 "Floristry is my creative outlet, and a chance for me to tell a story, whether it be my own or someone else" ~ Mim Fergie
We popped by the light-filled home studio of gorgeous floral designer Mim Fergie to chat creativity, fashion, and dedicated self-care while smelling all of the beautiful flowers. Thanks Mim!
What do you do? I'm a florist and I absolutely love creating heart felt floral arrangements for weddings, events and interior spaces.
Not getting a typical 9-5 job, but building up your own business takes courage and effort. What convinced you to follow this path? I started my first business (a small cafe) with my partner Jordan. It was something we both dreamt of, and going into it together was a lot less scary than doing it alone. We had a tonne of support from friends, family and our community which gave me the confidence to branch out on my own and start up my floral business a few years later. I love the relationships that you create in small business, and getting the chance to work and collaborate with people I admire is the best part of all.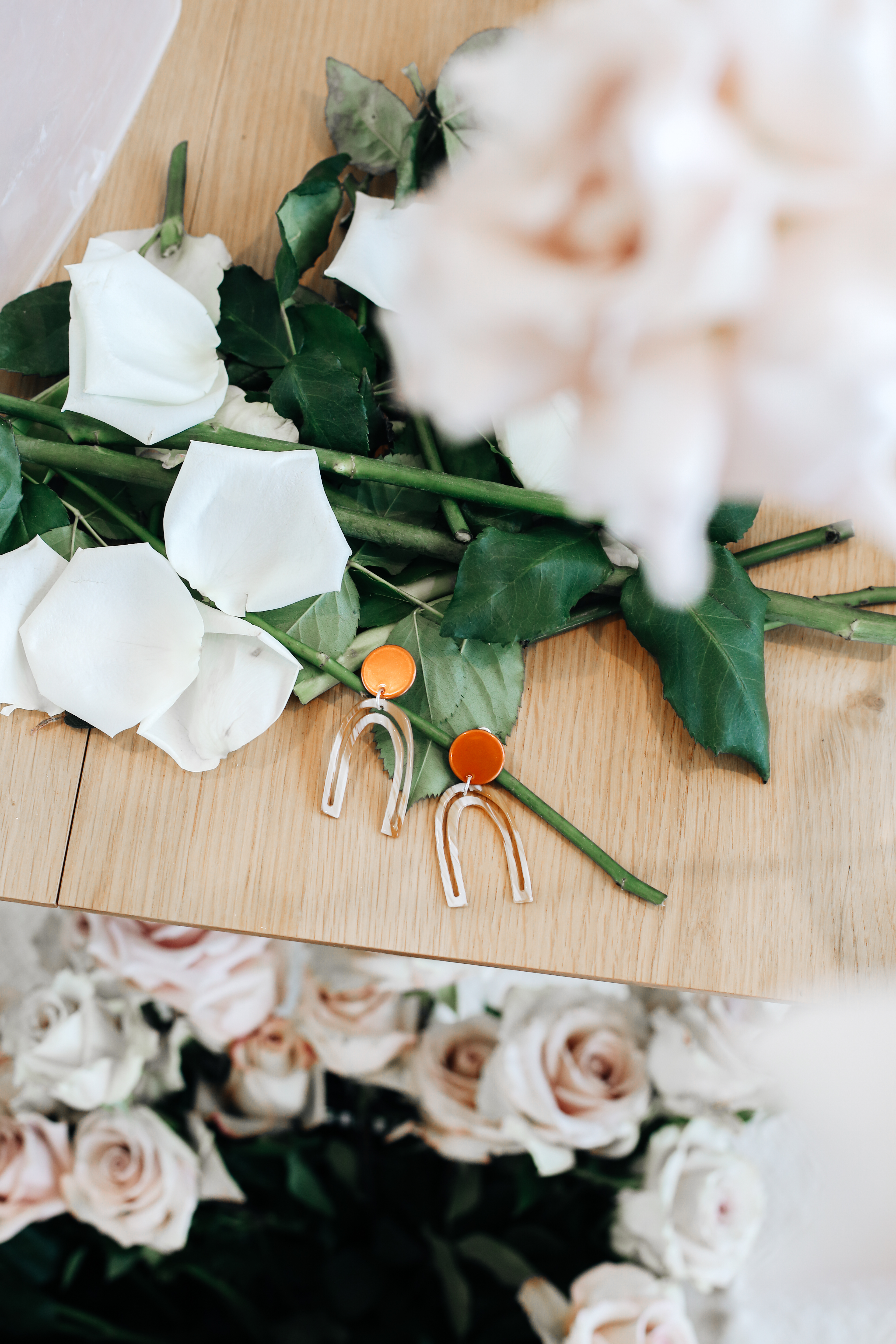 Photographs by Savannah van der Niet.
Could you tell us about the philosophy that underpins your arrangements and business?  Floristry is my creative outlet, and a chance for me to tell a story, whether it be my own or someone else. I want to create floral arrangements that reflect a couple's personality on their wedding day; a piece that creates conversation in a cafe, or warmth in a home. Everything I create is made with lots of love and intention.
"Life can be really fast paced and I often find it hard to slow down and switch off, so I love to spend time with family by the water"
How does the design process work for you? How do you choose your flowers and arrange them artistically? When I'm selecting my flowers, I always think about the feeling or mood I want to create. Do I want the arrangement to be soft, delicate and floaty? Or perhaps bold, masculine and striking? Flowers are unpredictable, so I try not to obsess too much over having to have a particular flower. I love going to the market and finding unexpected flowers that work perfectly for the brief.  I always start with a single colour and build the palette with a variety of flowers and foliage within that hue. When I'm arranging the flowers, I put a lot of time into preparing each stem. I pick out my favourite flowers and remove any thorns, damaged leaves and petals, and find stems with interesting shapes and quirky features. I generally start with the big, structural pieces that create movement within the arrangement, and finish with the 'floaters' which are often wild flowers or grasses.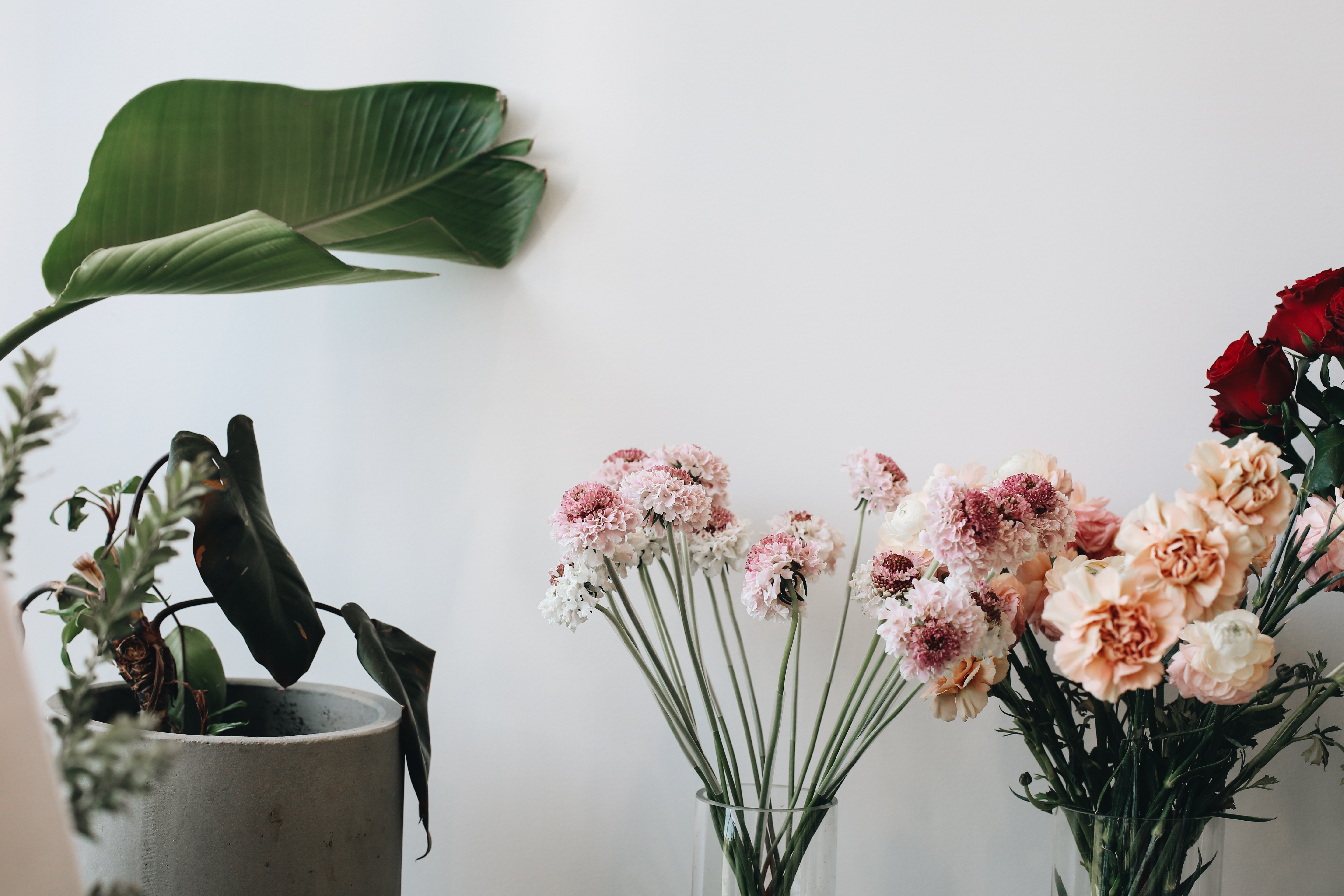 Where do you work? What does the space look like? I've recently relocated from my studio in South Brisbane, to a home studio. I've always been a morning person, and I love waking up early and getting stuck into arranging while the sun's still rising and it's still nice and cool. I spend a lot of time replying to emails and creating concepts for weddings, so I wanted a place that was relaxing, inspiring and where I have flexibility. My new studio overlooks the park and the river which is absolute heaven. Like the rest of my home, it's quite neutral and minimal. It features lots of greenery, timber benches, hand made ceramics and a little nook for me to do the admin side of things.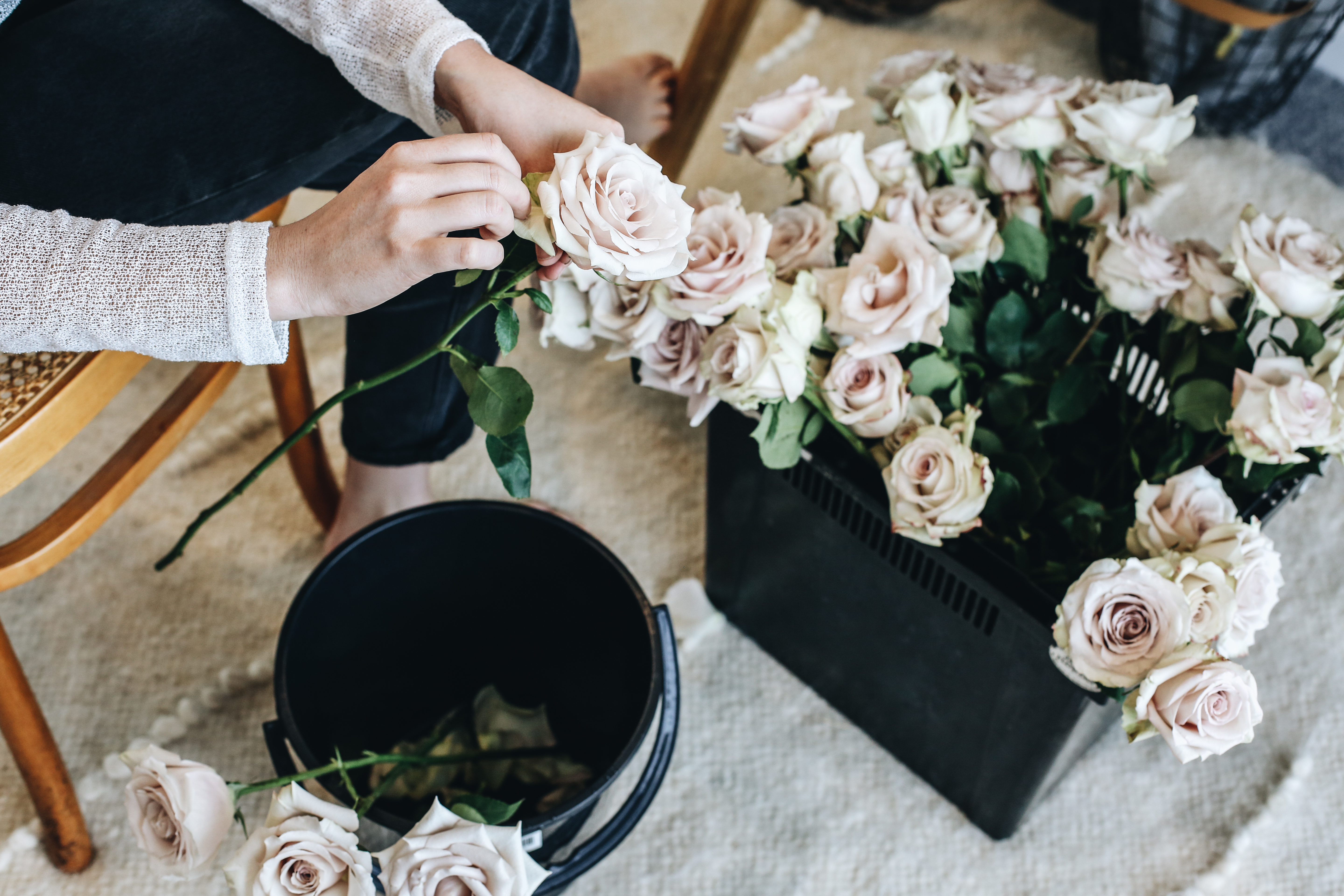 Prepping roses for an upcoming floral installation.
How do you think about clothes and fashion? Do you have a particular aesthetic or are you a chameleon and what do you love? I've always been a lover of op-shops, and finding one off pieces that you can't just pick up anywhere. A lot more thought goes into purchasing pre-loved clothing, and I love the adventure and the satisfaction of finding something really special. I'm always drawn to natural fabrics and textures, and tend to choose muted, earthy tones. I'm all about comfort and I love to layer, so over sized shirts, smock dresses and overalls are common in my wardrobe.
My latest collection is called Kinship. What are the most important ties you have that make you are part of? Each week I get to create floral arrangements for some of my favourite cafes in Brisbane. I get to arrange flowers in beautiful spaces, and then sit and enjoy a coffee and some breakfast. I have a great relationship with the cafes and restaurants I provide flowers for, and I feel grateful to be still be a part of the hospitality community in some way. Life can be really fast paced and I often find it hard to slow down and switch off, so I love to spend time with family by the water. We often head down to Coochiemudlo Island or sail up the river from Corinda. What are some of your favourite spots to eat, drink, shop and play in Brisbane? I could easily eat dinner at 'Happy Boy' every night for the rest of my life. Their food is simple and delicious and their wine list is amazing. Once a week I like to have a self-care day and make sure I tune in and listen to my body.  It includes foot soaks, face masks, meditation and essential oils. I love that I can pop into Conscious Kin on James Street and find everything I need.
What's next for you? What are you really looking forward to? Jordan and I have been in small business for the past 6 years, so we've kept ourselves very busy. We recently decided that we wanted to slow down and live more thoughtfully, so we want to sell all of our things, buy and renovate a boat, and live aboard.  We're really excited for a change in pace, and a new adventure. We've never done anything like it before, but we're super excited! I'm also launching a new business venture, 'Olive Lane' this year which is beautiful, hand woven rugs. I love interiors, and I've always wanted to branch out into something like this, so I can't wait to get it up and running. See more of Aurora Floral Studio online here and on Instagram! Stay in touch with Mim here and her soon to launch Olive Lane Rugs project.